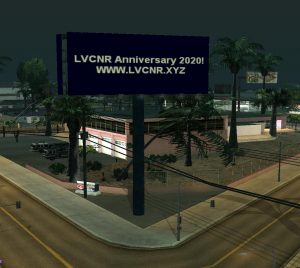 Version 3.3 Update
Introduction
The wait is over! The much awaited mega update of LVCNR is finally here! Excited? So are we. Read on to know more.
This update introduces many features & new systems to your LVCNR Gameplay experience. The team had been working on this update for almost a month.
The new systems need to be understood before dealing with them in game, and we've accordingly provided resources (like Wiki) for you to understand them.
So what's new?
What's New
New Server IP

LVCNR Server has got a new IP. The new server is also located in Asia.
This has been done keeping in view the increase in the no of players, lately.


You can continue using play.lvcnr.xyz:7777 to connect to our servers.
You may also use server.lvcnr.xyz:7777 OR play.lasventuras.net:7777 to connect.

Numeric IP: 139.99.61.40:7777

Air Cargo Missions

Players can now choose to do air cargo missions. All you need to do is get a Dodo plane and type

/cargo

. Choose the Pickup location and start delivering the cargo packages for Cash, XP & Score. Dodo planes are available at all airports of San Andreas.


Be careful while flying over the restricted zones (Army Base, FBI HQ, etc) while delivering the cargo. You know why!
Van Courier Missions

Players can choose to deliver courier packages over the roadways. Get a Burrito Van and type

/courier

. Pickup the packages from Courier HQ (Use

/gps

for Courier HQ) and deliver the packages all over San Andreas for Cash, XP & Score.
LVCNR Billboards Advertisement System Billboards are the advertisement pillars that you see all over San Andreas. As an example, take a look at the following picture.


This system will also be available to players to advertise/showcase anything that they want to. For eg., Your Gang Recruitment Advertisement, Your Name & quote on the board, etc!

We have installed many such customized billboards all over SA. Go around and find as many as you can!

10-Codes system

10-Codes allow you to communicate information quickly. They are used by the Police Administration in many countries of the world.

At LVCNR, we have adopted these 10-Codes and modified them according to the game needs. You can use them in game chat & also in police (/p) & army radio (/ml).

Example:
If you type: /p 10-37
You will see: < Police Radio > Player (2):Gang War in Progress (10-37).

You can also use two or more 10-codes at a time.

Example:
If you type: /p 10-74 at 10-20
You will see: < Police Radio > Player (2):Civil Disturbance (10-74) at Prickle Pine (10-20).
These 10-Codes are particularly useful for Cops/LEO/Army classes. However, they can be used by all players irrespective of class.

List of 10-Codes
For a list of complete 10-Codes, please visit LVCNR Wiki.

Quick Strings System Quick strings, as the name suggests, are chat strings used for quick communication & information.They're very easy to use. You can type the following strings in main chat, Police Chat (/p) & Army Chat (/ml).

$loc – Displays your current location.
$cash – Displays your cash in hand.
$bank – Displays your bank cash.
$level ($lvl) – Displays your Wanted Level.
$rank – Displays cop rank for cop class.

You can use the Quick Strings in combination with the 10-Codes.
Feature Updates

Pay-Day Updates

Paydays have been modified to give players more payout. That means, you get more money.
House Taxes have been reduced by 50%. That means, you get richer!
Business Taxes have been modified. Now, your money inside businesses also gets taxed at fixed rate of 8%.

Moneybag Updates

New moneybag locations have been added.
You will now, also find fake-moneybags all over SA. So, make sure you don't get fooled!

Paragliding/Skydive Updates

New Skydive locations have been added at all airports of San Andreas.
Just enter the Airport Checkpoint in any city and take a ride!

Robbery Updates

A new casino robbery location has been added. Find out where!
The casino also has a bar.
Bribery Updates

New bribe-pickup locations have been added all over SA. Be vigilant!

Gang Updates

New Gang-Zone added at Stunt Island.
Gang-war alert messages have been formatted to show Gang ID & Gang Tag.
Zone lock time has been reduced from 90 minutes to 60 minutes.
LEOs/Army/Medics can no longer use /gcreate. It's purely a Civilian command.

GPS Updates

The GPS Arrow has been replaced with Way-point blip on radar & map.
New GPS locations have been added.

Minor Updates

Drivers cannot /eject players from locked vehicles anymore.
Cop tutorial updated.
Police Ticket (/tk) price increased from $3000 to $5000.
Minimum Cop-Arrests required for offering /bail reduced from 30 to 15.
Shorter commands added:

/ubr = /usebribe
/sts = /stats
/asts = /allstats (Now shows XP too)

Intercity Flight duration increased from 15 to 20 seconds.
Admin minigun kills will now be treated as Unfair Death. Players will not lose any stats when killed by an Admin's minigun.
Bug-Fixes
Negative Wanted Level bug fixed.
Players can no longer start missions while being passengers of vehicles.
Fixed /wave animation.
Fixed a few bugs with House & Business system.
Fixed a few false-positives on Anti-Cheat detections.
​
For more updates, download our android app from Google Play Store or click here